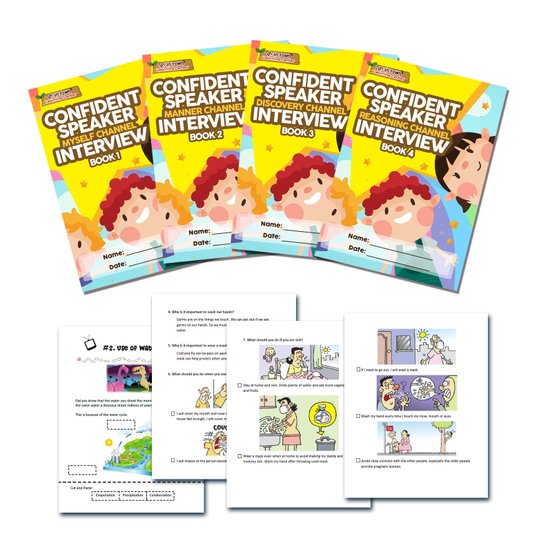 This program is designed to help children develop social skills, gain independence, and build self-confidence through interacting with other children in a stimulating and exciting learning environment. Children are encouraged to experience the world and be prepared for primary school interviews through 4 Channels: Discovery, Manner, Yourself and Reasoning Channels.
The Channels focus on questions about daily-life, reasoning, self-introduction and proper interview manners. The program aims to prepare students for kindergarten or primary school interviews.
The program covers four channels:
Discovery Channel
Manner Channel
Yourself Channel
Reasoning Channel
​
Discovery Channel
Manner Channel
Yourself Channel
Reasoning Channel
12 Topics: Use of Water, Healthy Eating, Personal Hygiene, Saving the Earth, About Hong Kong, Time, Seasons, Tropical Cyclone Warning, Rainstorm, Animals
The course introduces 120 most common interview questions, and many of the most common question types and interview formats taken from band 1 schools. It aims to equip every student with the perfect interview skills from subtleties such as manners and communication to story description and presentation. Instruction and feedback on posture, enunciation, eye contact, gestures, facial expressions will be provided to ensure students can perform to their highest potential. (The course is conducted in English only)
Course Features:
1. How to Prepare a Student Portfolio
2. Interview Tips and Skills
3. Individual Interviews
4. Reading Report
5. Presentation
6. Parents' Letter: Strengths and Weaknesses
7. Read Aloud
8. Debate
9. Group Discussion
10. Mock Interviews
11. Current Affairs
P.1 & S.1 Interview
TM
(K1-K3, P5-P6)
Our center is dedicated to working with children and families to best meet your child's needs.
Students will learn vital interview skills such as presenting with a good attitude, polite manner and confident posture and body language.
Tired of telling the schools your favourite book is ''Charlie and the Chocolate Factory"? Most schools will ask students to write a reading report or tell the interviewer about their favourite book. Our teachers will help to make your story stand-out.
Students will learn to make an impressive and memorable self-introduction for the interviewer.
How to read confidently? Reading Aloud is commonly used to test the pronunciation and fluency of students. Our teachers will teach students how to ready passages aloud correctly.
Our teachers will teach the key words and phrases required for giving and asking for opinions as well as agreeing and disagreeing.
Students are taught how to lead a group, respond to others and make good eye contact. They will learn group communication skills such as reaching agreement and persuading others.
Our teachers will introduce the topics that are commonly asked to do in a group or individual presentation. We will provide a framework for students to do the presentations confidently.
Students are asked to talk about their strengths and weaknesses. Some schools would even request the parents to write about their children's strengths and weaknesses. We will provide model answers to help polish the responses.
Students will learn to prepare their own portfolio. (Ex. Certificates, First Aid, Competition Participation, etc)
Students will practice and give comments to each other in class.
The teachers will discuss the current affairs that have recently occurred and ask students to analysis the key issues.
The channel helps students to answer the "What if" questions. It focuses on students'critical reasoning and analytical skills.
This channel goes through questions that would be possibly be asked during the interviews. The program helps student to talk about their lives such as their school, home, family, siblings and etc in an appropriate manner.
The channel aims to introduce students the proper manners during the interview. This includes what students should do when entering the interview room, students'sitting positions and tone of voice during the interview.