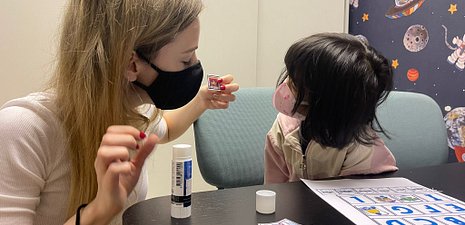 Our philosophy of care focuses on all aspects of growth. We strongly believe that children learn best through:
Inspiration
Innovation through active exploration and experimentation
InInTown provides a loving, understanding, comfortable, safe and nurturing environment where children will be stimulated and encouraged to develop social, physical, emotional and intellectual skills.
Our centre is dedicated to working with children and families to best meet your child's needs.
Interactive Approach
We believe every child is irreplaceable and possesses boundless creativity. With an inspirational environment and opportunities to innovate, children can learn under their own will and in their own pace. Everything we do is built around one simple idea: children learn best when they love to learn.
Small Group Learning ( 6 per class )
Our classes are conducted in small groups to ensure effective learning while balancing the fun and benefit of interactive group-based learning.
Native English Teacher
All our teachers are well-trained native English speakers. Not only are we fluent in English, but we are passionate about what we do and are committed to your children's learning and personal growth.
Original and Structured Curriculum
We believe that the pace and style of learning within a structured environment and curriculum should be carefully adjusted to the individual need. We also provide regular feedback and conduct evaluations to ensure learning goals are met and to maximize students' potential.
Evaluation
We offer handbooks, progression report, counselling and certificates upon the completion of each course.
Assessment
We offer assessments for students to place them in the appropriate level and with children of similar standards and learning behaviour.